News Alerts!
Job Opportunities - Contact the Superintendent of Schools - Greg Rinehart - 620 348 3415.
Tomorrow night the Mustangs will take on the Central Plains Oilers in Semifinal action from the 2A Boys Sub-State at Greensburg!
Pregame coverage on Hit Radio 94.7 KSKU begins around 5:45 PM with Tipoff at 6 PM. Catch the game online as well as at www.adastraradio.com or download the new Ad Astra Radio App on your smartphone or tablet.
The Kiowa County Media Center in Greensburg will be broadcasting all sub-state basketball games that take place at Kiowa County this week. Our live, online stream is free to everyone, and can be found by going to kcmcsports.com .Our Facebook page will also have a link to the games, https://www.facebook.com/kwksmedia .
Friday the Macksville Mustangs host the St. John Tigers in the Battle of Stafford County.
Pregame coverage on HitRadio 94.7 KSKU begins at 6:45 with Kickoff at 7PM. Catch the game online at www.adastraradio.com or download the new Ad Astra Radio App on your smart phone or tablet.
Enrollment:
August 8, 2016 - 12:00 p.m. to 8:00 p.m.
August 9, 2016 - 8:00 a.m. to 12:00 p.m. and 1:00 p.m. to 3:00 p.m.
We hope you are having a great summer!! However, school is just around the corner and it is time to start buying school supplies. Below are the supply lists for ELEMENTARY, JUNIOR HIGH, and HIGH SCHOOL.
Tuesday, February 2, 2016 High School basketball games at Lacrosse have been postponed due to weather.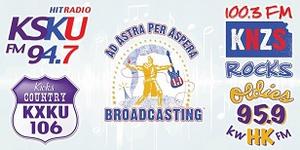 Everyone, if you can not make it to the High School Basketball games on Friday, January 8, 2016, you can still listen or watch the games on the radio or online. The games are against South Central and are at Macksville High School. Varsity Girls will start following JV boys at approximately 6:00 p.m.
Listen to the Games
Pregame coverage begins 15 minutes before the Varsity Girls tip off live on HitRadio 94.7 KSKU, online at http://www.adastraradio.com/sports.html and download our new Ad Astra Radio App to stream on your Smartphone or tablet.
Watch the Games
http://www.nfhsnetwork.com/schools/central-plains-high-school-claflin-ks
The website www.macksvillemustangs.com in not in any way affiliated with USD #351 here in Macksville. It is a scam. Please do not patronize this website. Thank you!