Macksville FCCLA students earn silver medals at district competition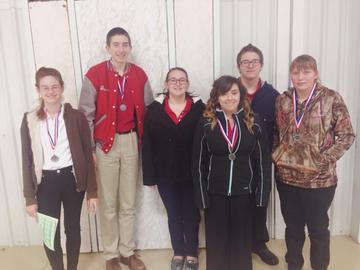 On Feb. 4th several Macksville HS Family, Career and Community Leaders of America members competed in speaking events at Cimarron, KS at the district level STAR (Students Taking Action for Recognition) event competition. Joanne Taylor received a silver medal in the Food Innovations competition with a project modifying a chocolate chip muffin to make it healthier. Denise Garcia and Kayla Claussen participated in a team event that showcased their anti-bullying project with third and fifth graders entitled, "Breaking Bullying". They also received a silver rating. The Advocacy event was one Jarrod Kuckelman entered, focusing his project on ways to partner in the community to reduce underage drinking and drug use. He received a silver medal and is eligible for state competition in Wichita in April. Members Katrina Waters and Taylor Rodriguez went with the group to assist with timing the events and learn more about them. MHS FCCLA adviser is Terri Renfro.
picture:
Joanne Taylor, freshman; Jarrod Kuckleman, soph., Katrina Waters, soph., Denise Garcia, senior, Taylor Rodriguez, soph., and Kayla Claussen, soph.
Posted: 02/08/2015